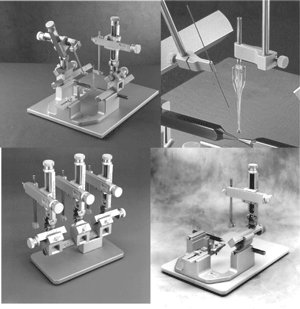 ASI Instruments is dedicated to engineering products that satisfy the needs of everyday Research Scientists. With the introduction of the SAS-4100 we brought this commitment into reality, presenting a product that is flexible but also practical. The SAS-4100 can be described as an economical option with innovative features that make this model stand apart from its contemporaries.
Our company was the first to offer the inclusion of
Calibrated Knobs
on all axes which provide researchers with not only greater ease, but more accurate readings than the vernier scales commonly found on other designs.
Advanced Slide Technology
is integrated into the complete line of stereotaxic manipulators. This technology provides researchers with unparalleled precision, with a user-friendly interface. ASI Instrument's innovative
Tilt-and-Swivel Mechanism
includes 90 degrees of tilt and 360 degrees of swivel, and is both operated and controlled by an intelligently designed single-lever, locking mechanism. This is, by far, the easiest to use universal joint available and actually locks into place better than our competitors' designs. The
Open "C" Frame
gives users a more pronounced sense of openness as well as a depth of access to research specimens. In comparison to raised frame designs, the open frame serves as a more reliable platform. The
SAS-4100
provides an unsurpassed stereotaxic surgery platform that not only guarantees reliability, but that is built with the subtle nuances that enhance the entire research experience.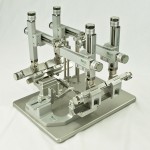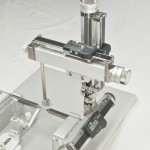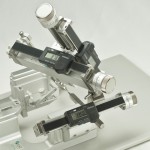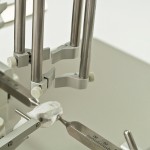 STEREOTAXIC INSTRUMENTS PRODUCTS
Complete Systems